News
Keri received her qualifications!
Posted: 26th Jan 2018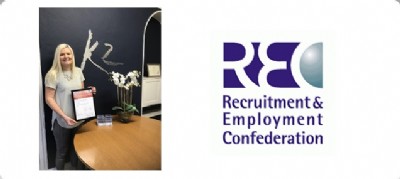 Today was the day that her results came in, and she smashed it!
We are so proud of Keri our Branch Administrator as she has now passed her Certificate in Recruitment Resourcing after a few months of intense studying and hard work.
Now with her letters after her name this really amplifies her growth in her time here at K2 Recruitment and shows her passion and commitment for her career and her personal development.
Asking Keri how she feels, she responded "I really am over the moon, the hours of revision and graft are totally worth it, the adrenaline and sense of nervousness that you feel when opening your results and seeing that you've passed is literally the best!!"
Cindy, Managing Director says "There is nothing better than being able to offer your team industry recognised qualifications that will enable them to grow and develop and really make a name for themselves within our market. Keri is a well loved member of our team and is a true K2 Ambassador, we are so very proud."
Well done Keri, you deserve it, now go and celebreate!
---
Cindy makes finals of "Business Woman of the Year Award"
Posted: 3rd Mar 2017

So its been an exciting week for K2 Recruitment as our very own Managing Director Cindy Johnson has not only been nominated but has fought off some stiff competition to make it to the finals of the "Business Woman of the Year Award" which is hosted annually by Banbury Women in Business.
We asked Cindy how she is feeling and her response was "I honestly cant believe it, its such an honour to be recognised as doing a good job and making a difference locally. I am so lucky to have a career in an industry that I love and that I feel extremely passionate about, and I am fortunate to have such a great team around me, without them none of it would be possible"
All we can say is....go girl!
---
Looking for extra work this Christmas?
Posted: 24th Nov 2016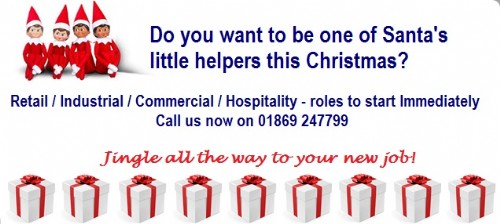 ---
Donations required
Posted: 1st Apr 2015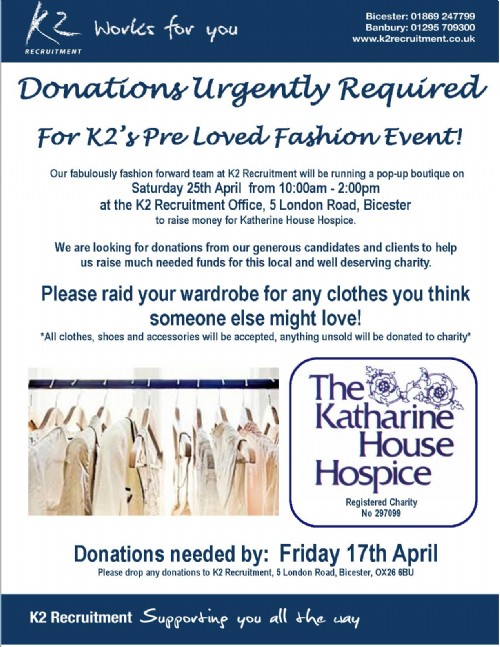 Our fabulously fashion forward team at K2 Recruitment will be running a pop-up boutique on Saturday 25th April from 10:00am - 2:00pm at the K2 Recruitment Office, 5 London Road, Bicester to raise money for Katharine House Hospice.
We are looking for donations from our generous candidates and clients to help us raise much needed funds for this local and well deserving charity.
Please raid your wardrobe for any clothes you think someone else might love! All clothes, shoes and accessories will be accepted, anything unsold will be donated to charity
Donations needed by: Friday 24th April
Please drop any donations to K2 Recruitment, 5 London Road, Bicester, OX26 6BU
Thanks in advance for all your support!
---
K2 Consultants Embark on REC Diploma
Posted: 8th Jan 2015

Its exciting times here at K2 Recruitment as two of our team embark upon the journey towards achieving their Diploma in Recruitment Management.

Investing in our consultants is of paramount importance to help them be the absolute best in the business, and to show them that they are valued, appreciated and respected in their role here. Without our fantastic consultants we would not be the company we are today.

The ability to provide our clients and candidates with an unrivalled and knowledgeable service is something that we hold in very high regard within K2 Recruitment and we feel that having fully qualified consultants enables us to offer this. Its sends a strong message about the quality and professionalism that we uphold, enabling us to offer long term business solutions to our clients and candidates and assisting us in standing out from the crowd.

I am sure that you will join us in wishing Kellie Poole and Matthew Davitt all the best as they start their studies, and watch this space for updates!
---
K2 Recruitment Pass REC Compliance Test With Flying Colours!
Posted: 10th Sep 2014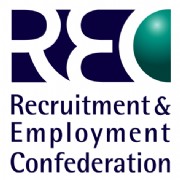 It's always reassuring to know that all your recruitment needs are being handled professionally. So K2 Recruitment having passed the REC's compulsory Compliance Test yesterday with flying colours shows not only that our team of consultants fully understand the requirements in terms of compliance, but also reassures our clients and candidates that we take this responsibility seriously and we adhere to these policies and procedures daily.

The test was made up of a series of questions that cover key legislation within the recruitment world, in particular the Conduct of Employment Agencies and Employment Businesses Regulations 2003 (the Conduct Regulations) and the REC Code of Professional Practice.

The Recruitment and Employment Confederation (REC) is our governing body, and all members must abide by a Code of Professional Practice. Above all, the REC is committed to raising standards and highlighting excellence throughout the recruitment industry. By passing the test, the REC can determine whether existing REC members can renew and retain their membership. We are proud to have been a member of the REC since January 2001 and remain as committed as they are in supplying honest and ethical recruitment services to everyone we have the pleasure in dealing with.
---
£502.89 raised for Thames Valley & Chiltern Air Ambulance Trust
Posted: 17th Jul 2013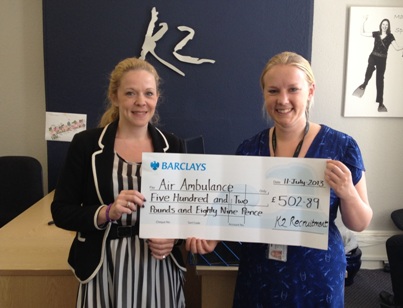 Following our hugely successful Charity Sale we are delighted to have been able to present Thames Valley & Chiltern Air Ambulance Trust with a cheque for £502.89.

A massive thank you everyone that helped us to raise this much money, via either donating clothes to be sold, shopping in our pop up boutique, or even dropping money into one of our collection buckets......we really appreciate every penny.


---
Help us support the local Oxfordshire charity SANDS
Posted: 28th Apr 2013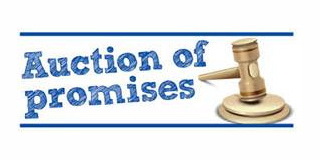 K2 Recruitment has chosen to support the local charity Oxfordshire SANDS (Stillbirth & neonatal death charity). This charity's good work has directly helped a member of the K2 team and has touched our hearts greatly. We believe this local charity has a lot to give and we want to help them as much as possible in delivering their services.

We are holding an online "Auction of Promises", where people have donated goods or services to be auctioned off to the highest bidder, all proceeds going directly to Oxfordshire SANDS. We are hoping to raise enough money to help buy a Sofa for the Ashfield Bereavement Suite at the John Radcliffe Hospital. The hospital has been quoted £2,640, as its needs to be made with hygienic fabric. Now I know this is a lot of money but we believe with everyone's help and support we can raise as much as possible.

The link for the auction is http://auctionofpromises.com/i.aspx?a=fwddlf please take a look if there is anything you fancy having a bid on, or if you are able to offer anything to donate please do so, the more auction lots we have the better!

We have also set up a just giving page http://www.justgiving.com/Leanne-Jeneson1 for anyone who would like to donate a monetary amount instead of bidding at auction. We really hope you all can help us in our quest to raise as much money as possible for this wonderful charity. Happy Bidding
---
Money raised for our local Air Ambulance
Posted: 25th Apr 2013

"K2 Recruitments "Pre-Loved Fashion Event" was a real success and raised £598 for our local Air Ambulance. Donations were received from many of our generous clients and candidates and the team here at K2 Recruitment transformed our London Road offices into a pop up fashion boutique for the day. We had lots of interest from the local public and a large number came in and found some real bargains! We also had kind-hearted donations from people passing by who were throwing money into the charity buckets our lively team were parading around Sheep Street. We even had some people wind their car windows down and throw money in the buckets as they were driving past!"
---